<!- mfunc feat_school ->
Featured Programs:
Sponsored School(s)
<!- /mfunc feat_school ->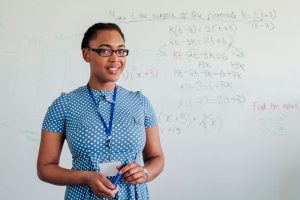 Teacher salaries are driven by several factors, including the school district in which they work, their level of education, and certainly their years of experience. However, what most people outside the sphere of education don't realize is that the subject you teach or the grade level in which you teach that subject have little to do with what you can expect to earn. Fixed teacher salary schedules simply don't take into account which subject is being taught.
This spells trouble for the school districts throughout the nation that struggle to attract and retain teachers in the STEM (science, technology, engineering, mathematics) fields because individuals with these skills sometimes find that other professions pay a premium for those very same skills.
<!- mfunc search_btn -> <!- /mfunc search_btn ->
But there's a population of math enthusiasts who love nothing more than to share their knowledge and passion for math by teaching it. These are the people that school districts are looking for. The good news is that amid the persistent, nationwide demand for math teachers at all levels, there are some financial incentives being offered to remedy it.
Math Teacher Salary Info by State
Examining the Demand for Math Teachers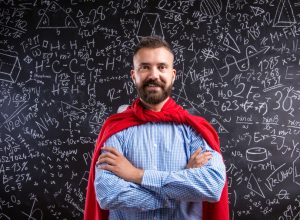 The demand for math teachers is stronger than ever. This may be bad news for school districts across the nation, but for today's math teachers, this means more opportunities than ever before.
The U.S. Department of Education maintains a list of teacher shortage areas: areas and specific grades that the Secretary of Education determines an "inadequate supply of elementary of secondary school teachers" exists.
According to the U.S. Department of Education, no less than 42 states and Washington D.C. reported shortages of mathematics teachers in the 2020-21 school year, with most states reporting shortages at all grade levels.
| | |
| --- | --- |
| 1. Alabama | 23. Montana |
| 2. Arizona | 24. Nebraska |
| 3. Arkansas | 25. Nevada |
| 4. California | 26. New Jersey |
| 5. Colorado | 27. New Mexico |
| 6. Connecticut | 28. North Carolina |
| 7. Delaware | 29. North Dakota |
| 8. District of Columbia | 30. Ohio |
| 9. Florida | 31. Oklahoma |
| 10. Hawaii | 32. Oregon |
| 11. Idaho | 33. Pennsylvania |
| 12. Illinois | 34. Rhode Island |
| 13. Indiana | 35. South Carolina |
| 14. Kentucky | 36. Tennessee |
| 15. Louisiana | 37. Texas |
| 16. Maine | 38. Utah |
| 17. Maryland | 39. Vermont |
| 18. Massachusetts | 40. Virginia |
| 19. Michigan | 41. Washington |
| 20. Minnesota | 42. West Virginia |
| 21. Mississippi | 43. Wyoming |
| 22. Missouri | |
For example, California reports shortages of mathematics teachers from Pre-K to grade 12 in both basic and advanced mathematics.
<!- mfunc search_btn -> <!- /mfunc search_btn ->
According to the Brookings Institution, a nonprofit public policy organization, many states are finding alternative ways to bring math teachers into the teacher pipeline. For example, in the 2016-17 school year, California issued more than 12,000 emergency certifications, of which about half were in math, science, and special education.
The U.S. Department of Education maintains a database of teacher shortage areas. A search tool allows you to search by school year, state, subject matter, and discipline. Learn more about your state's teacher shortage areas here.
Federal and State Incentives for Math Teachers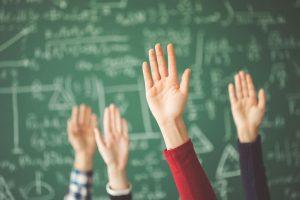 While paying out higher salaries to math and other STEM teaches seems like the obvious solution to this shortage, many teachers' unions have struck this down, citing it would go against the general "equal work for equal pay" philosophy that's promoted in unions.
But that hasn't stopped states from finding other ways of incentivizing math teachers. Targeted hiring and retention bonuses and loan forgiveness programs have popped up in most states, particularly in high-poverty areas that are historically difficult to staff.
And many states have posted positive results. For example, the Florida Critical Teacher Shortage Program, which offers both loan forgiveness and monetary incentives for teachers in hard-to-staff subjects, has reduced teacher attrition by about 10%.
If a state receives a federal designation of a teacher shortage (state education agencies report teacher shortage areas to the U.S. Department of Education for approval and recognition), teachers in the specific areas of shortage are eligible to receive specific federal financial aid benefits:
Federal Perkins Loan borrowers who are full-time teachers of mathematics, science, foreign languages, bilingual education, or any other field where the state educational agency determines a shortage in qualified teachers may qualify for cancellation of up to 100% of their Perkins loan
The TEACH (Teacher Education Assistants for College and Higher Education) Grant Program provides grants of up to $4,000 per year for students who agree to serve as a teacher in a high-need field that serves students from low-income families. Current high-need fields include:

Bilingual education/English language acquisition
Foreign language
Mathematics
Reading specialist
Science
Special education
States also often provide their own incentives for attracting and retaining educators. For example, California Governor Gavin Newsome's 2020-2021 school budget included $900 million specifically for recruiting and retaining high-quality teachers in struggling California schools and in the STEM and special education areas. Bonuses for teachers teaching a high-needs subject in a high-needs school may top $20,000 through the California Teacher Credential Award program.
In Alabama, incentives include loan repayment for teachers in the STEM fields. The Alabama Department of Education developed the Alabama Math and Science Teacher Education Program (AMSTEP), an initiative between the Alabama Commission on Higher Education (ACHE) and the Alabama State Department of Education (ALSDE), which includes a repayment of federal loans for students who pursued a teacher preparation program through any of Alabama's 26 in-state colleges and universities. Qualifying teachers receive $2,500 per semester in loan repayment for up to four consecutive years. For teachers who teach in school systems that are identified as "targeted school systems," this amount increases to $3,000 per semester for up to four consecutive years.
It's also become commonplace for many school districts, depending on their budget, to offer signing and retention bonuses for math teachers. For example, certified math teachers in the San Antonio's IDEA Public Schools (tuition-free charters schools) receive an annual stipend of $3,000.
Salaries for Math Teachers According to Location, Education and Experience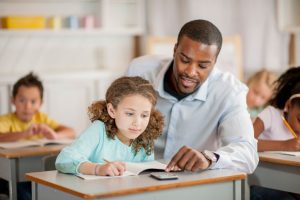 According to May 2019 statistics from the Bureau of Labor Statistics (BLS), teachers earned salaries in the following range (50th-90th percentile), according to the grade level being taught:
Elementary school teachers: $59,670 – $97,900
Middle school teachers: $59,660 – $96,280
High school teachers: $61,660 – $99,660
The highest-paying states for teachers (according to average salary) largely align with those states that have higher costs of living than the national average:
Elementary school teachers:

New York: $82,830
California: $82,560
Massachusetts: $82,450
Washington D.C.: $79,390
Connecticut: $78,070

Middle school teachers:

New York: $87,050
Alaska: $80,730
Massachusetts: $80,520
California: $80,160
Connecticut: $79,510

High school teachers:

New York: $87,240
California: $85,080
Massachusetts: $81,070
Connecticut: $78,540
New Jersey: $78,090
As expected, your salary as a math teacher will also vary according to your own education and experience.
While the bachelor's degree remains the minimum educational requirement to become a teacher in the U.S., you'll always earn a higher salary if you pursue a graduate degree in your field.
For example, in the Atlantic Public Schools, if you have a bachelor's degree and five years' experience, you'll earn an annual salary of $51,037. But with a master's degree, your salary increases to $56,140, and with a doctorate, to $65,494.
<!- mfunc search_btn -> <!- /mfunc search_btn ->
Similarly, in the Philadelphia Public Schools, you'll earn $52,136 with a bachelor's degree and three years' experience. But if you hold a master's degree, your salary will increase to $54,346 and to $61,490 with a doctorate.
Of course, you'll earn more according to your number of years of experience in the teaching profession. For example, teachers with a bachelor's degree and three years of experience with the Chicago Public Schools earn an annual salary of $56,631. This figure jumps to $59,952 at five years, $75,260 at 10 years, and $87,419 at 15 years.
<!- mfunc feat_school ->
Featured Programs:
Sponsored School(s)
<!- /mfunc feat_school ->